Flashforge Inventor IIs (pre-order)
AUD1,049.95 Inc GST
Pre-order now and get 5 spools of filament of your choice from Aurarum ABS, PETG or PLA.
Delivery mid July
The Guider IIs (High temperature version) is the latest flagship large format 3D printer from Flashforge. This is an updated to the the previous generation Guider IIs which now includes a high temperature extruder capable of temperatures up to 300 ℃. It boasts the addition of an onboard camera for remote monitoring andinbuilt activated carbon air filter. Other advanced features include intelligent assisted bed leveling, filament run out detection and resume on power failure. The Guider IIs is constructed from a rigid all metal frame with precise CNC machined components for the moving axis.
Out of stock
Description
Flashforge Inventor IIs (pre-order)
The Flashforge Inventor IIs is the latest updated version of the Inventor II which includes added features and safety.This intuitive 3D printer is smart, robust and easy to use. The ideal choice for the classroom.
The Inventor IIs is equipped with an activated carbon filter which provides piece of mind by filtering volatile particulates.
The addition of an onboard camera which can be used with cloud based printing software so you can send and monitor 3D prints to multiple 3d printers through a network via a web interface or even your mobile phone.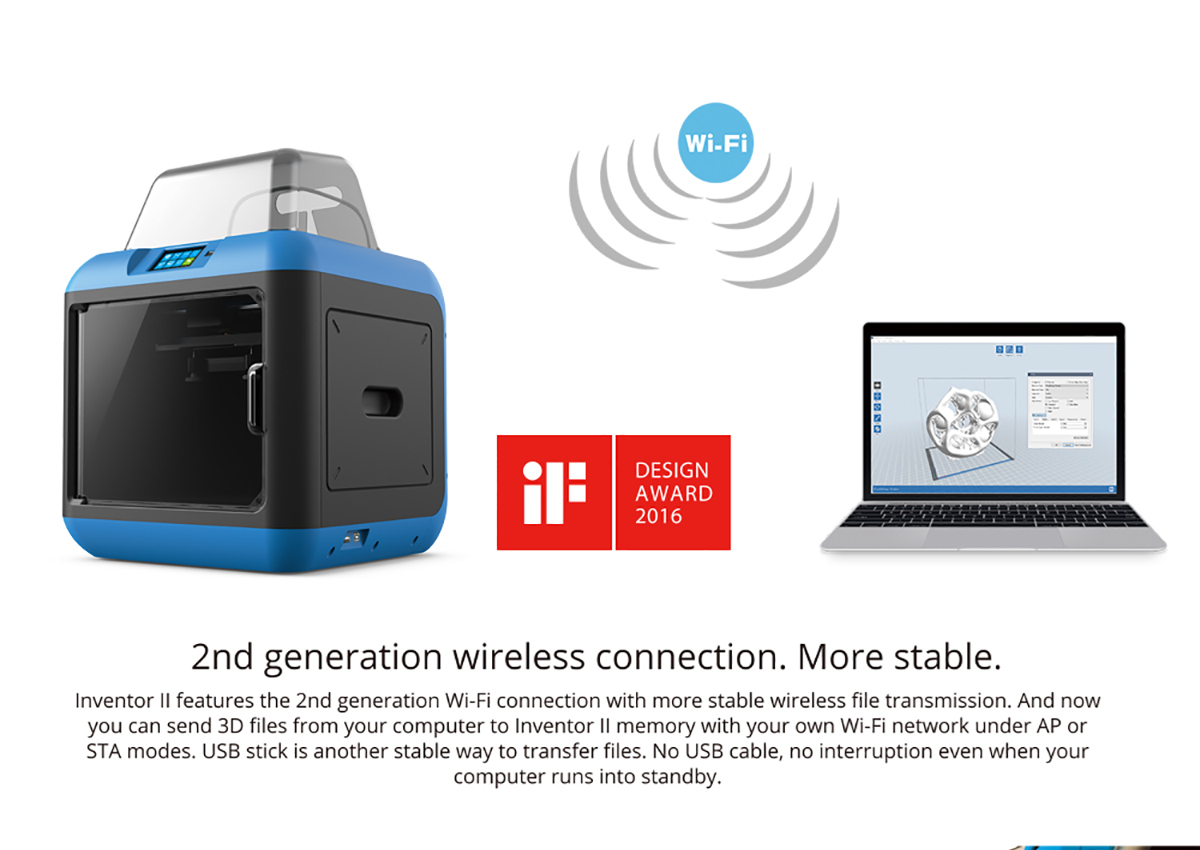 This latest model is the 2018 version of the Flashforge Finder which is with enhanced features including a larger build volume, onboard camera to monitor your 3d prints, an auto pause and restart function, as well as a fully enclosed build chamber improving safely as well and improving print quality.
It is an entry model designed for ease of use and is ideal for students or customers on a budget who do not want to compromise on quality and performance. This printer is incredible value and includes the latest 3D printing technology. It is the most quite 3d printer we have every come across, which makes is great for using in office and classroom environments.  It has a single extruder and comes equipped with WiFi and auto-levelling features.
This printer offers incredible value and a full colour TCD Screen, WiFi Connectivity, USB and USB memory Stick, automatic leveling connectivity using 1.75mm filament with a 150 x 140 x140mm build volume.
Smart Features
Exceptionally quiet
Assisted Platform Calibration
Filament run out detection
Send prints via Wi-Fi, Mobile App, USB Stick or USB cable.
Specifications
| | |
| --- | --- |
| Print Technology | Fused Filament Fabrication |
| Build Volume | 150mm*140mm*140mm |
| Extruder Quantity | Single |
| Printing Material | PLA Diameter of filament:1.75mm |
| Case Color | Black / Blue |
| Layer Resolution | ±0.10mm |
| Positioning Precision | XY: 11 Microns [0.0004 IN], Z: 2.5 Microns [0.0001 IN] |
| Layer Thickness | 0.05mm-0.4mm |
| Nozzle Diameter | 0.40mm |
| Printing Speed |  24cc/h |
| Extruder Temp. | 240℃ Max |
| Heating Plate Temp. | No heating plate |
| Function | Automatic leveling |
| Connectivity | USB Cable/U Flash Disk/Wifi |
| Supports (OS) | Winxp/Vista7/8, Linux, Mac OX |
| Operation | 3.5in Full-color IPS Touchscreen; |
| Language Interface | English/Chinese |
| AC Input | 115-230V,50-60HZ,150W |
| Overall Dimension | 420*420*420mm |
| Packing Measurement | 500*500*500mm |
| Software | FlashPrint and Mobile App |
| File Type | Input:STL/OBJ,Output: G / GX |